Isan Real Estate Newsletter, Fall 2018

Welcome, or as they say here in Thailand, 'Sawasdii'
It has been a while since our last newsletter and for that we apologise to all our followers. Our time spent on meeting the growing demands of clients, new and old, has been our key focus, and rightly so, as that is and always will be our main goal! We provide our clients with an enjoyable experience and a fast response time.
As it's October already, the rainy season should be coming to an end soon, which means more enquiries and opportunities for buyers to view our extensive range of properties.
1. A lot has happened since our last newsletter; a few of these are:
Growth: Despite the Thailand Real Estate market remaining subdued in most regions, there has been a larger focus with Buyers and Sellers relying on using a professional Real Estate Company to achieve their goals of either purchasing or selling. Whilst we have maximised most opportunities with both, we still remain focused on the owners and properties which have not moved yet. We believe we still have a long way to go to achieve the level of client satisfaction that we strive for, and we will continue to promote each property individually to buyers who fit that criteria.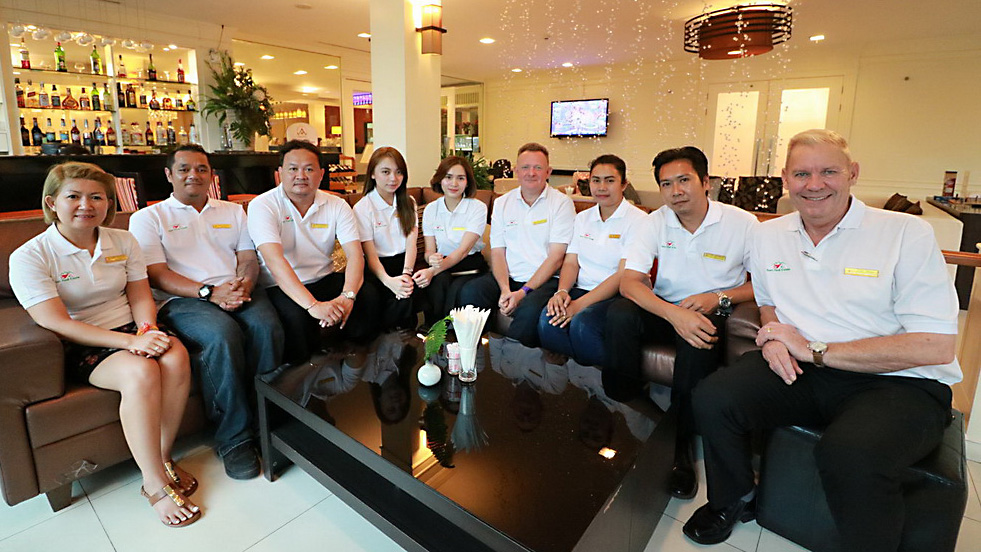 Staffing: Many of our clients who have been with us for a long time, such as investors, "flippers", family home buyers, commercial buyers and now, even hoteliers, will have noticed the change in staffing numbers and regions. We now believe we have a strong dedicated team who are willing to accept the professional challenge of involvement in Thailand's Real Estate market.
Does it stop there? No, we are still seeking professional staff who understand our business model to make a stance in specific areas and regions. Sakon Nakhon and Nakhon Phanom is a region where, despite a widespread advertising campaign, we still have not been able to fill a staffing position. We assure all clients that it is not through lack of trying and we will eventually employ a capable person to meet your needs in these areas.
Industry expansion: In our early start-up phase, we focused on the markets of homes and land for sale. This has been our lifeblood and will continue to be so. As our brand awareness has become greater in the course of operations, we have been invited, or requested in some cases, to become more involved in larger commercial projects: hotel purchasing, resort style living and very soon, exclusive sale and ownership of islands within Thailand.
Whilst that is very positive news for company growth and recognition, it may well be considered too much for the average home owner or seller. Fear not, we have introduced a KPI system linked with a multi-tiered commission scheme for all our staff which includes all properties, large or small. In simple terms, our focus remains firmly and personally on all properties and clients. Each and every client will receive all our professional attention.
Recognition: Isan Real Estate Co., Ltd. is extremely proud to have been awarded one of "Thailand's Best Real Estate Agencies" at a gala awards night on August 16th, 2018. Sponsored by "Dot Property Asia" and "Leading Real Estate Companies of the World", this was voted on by a panel of judges and included public views.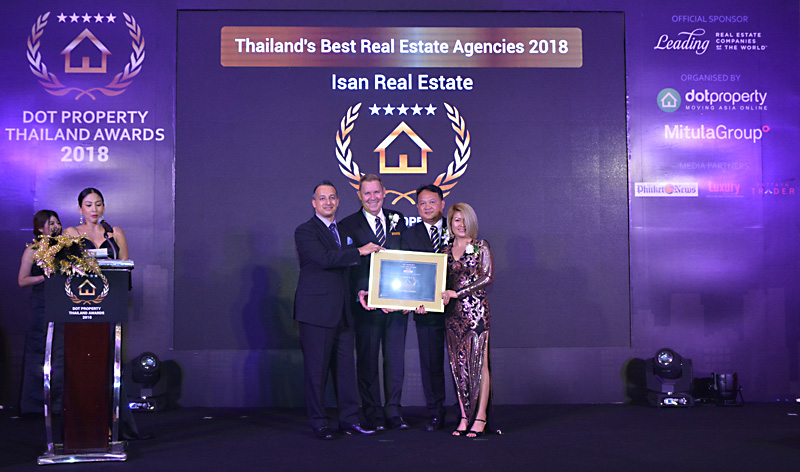 We are very humbled to be one of only eleven within Thailand to receive such a prestigious award. The criteria used for the judges was purely based on client satisfaction and dedication to providing a highly professional avenue for the Real Estate public. We thank all those involved for their voting and submissions. We are truly humbled. Many companies would rest on their laurels with such a recognition, which we believe would be wrong. To us, it is another reason to raise the bar and strive for improvement in client satisfaction – and that is exactly what we will aim for.

2. The Real Estate market in Thailand through our eyes:
Whilst we have had slow but continued growth, unlike many others, it has been a struggle to exist in an undefined, subdued market. We continually ask the question at our executive meetings; "Why is the Thailand Real Estate market so slow"? What is causing this dip to drag on for this long?"
In our opinion, a Real Estate market can be compared with a stock market or equity market. From experience, when the market is slow or near bottoming out, that is when the buyers jump in and go for all the bargain buys! With in excess of 200 properties at our disposal, all priced and appraised at current market conditions, we consider this to be the time for investors to grab them whilst you can.
There are many properties priced accordingly, either for home living, commercial enterprise or larger investments. Using that common expression, "they're not making any more land"! Very true, so from our perspective, regardless of our commission, it is a practical time for those who have sat on the fence and been waiting to move out there and secure some good properties.
3. Looking Ahead, 2019 & beyond:
Since 2014, as many know, Thailand has been under military rule. Many clients we speak with have varying opinions on whether this has been a good period or not. At Isan Real Estate, we remain neutral and reserve our comments.
During this period, Thailand grieved for the sad loss and passing of our beloved HM King Bhumibol Adulyadej on October 13th, 2016. HM King Bhumibol Adulyadej was loved by all within Thailand and is still within the hearts of all Thai people. His lavish final farewell and cremation was held on October 26th, 2017. Isan Real Estate Co., Ltd. pass on our sincerest condolences to all. We will remember him dearly.

The year between his passing and final farewell was a year of mourning for all; in fact, mourning still continues within the hearts and minds of many Thai people. The period of mourning was extremely difficult emotionally and in a business sense, resulting in a very quiet period of investing within the nation. Recently, it was announced by Prime Minister Prayut Chan-o-cha, head of the National Council for Peace and Order (NCPO), that elections may be held as early as February 2019, restoring democracy to Thailand once again.
As the election draws nearer, it is anticipated, regardless of which party governs after the elections, that investment will open up and larger development projects will be at the forefront. It is anticipated that once these new projects start construction phase, there will be a strong demand for more housing, land for logistical purposes, and an increase in spending within various regions by community.
This is a very positive sign not only for Real Estate clients but Thailand as a whole. For example, consider the One Belt – One Road international project with Thailand firmly entrenched in growth, especially in the North Eastern, central and southern provinces. In reality, the facts are that the project revolves around the High-Speed train network linking China, Laos, Thailand, Malaysia and Singapore, to mention a few. It will, when you research the initiative, open the doors throughout SE Asia and Europe, creating a gateway for joint economic investment, tourism, travel, massive logistical projects, etc. See the video below by the Ministry of Transport, the Office of Transport and Traffic Policy and Planning, and the State Railway of Thailand.
Our view is that it will allow businesses to operate out of Thailand, perhaps Nong Khai as a regional hub, allowing International companies to establish business centres in the North East. When you consider it in depth, imagine having your European head office established within Nong Khai Province as headquarters, jump on the High-Speed train to commute and conduct business in China as you please, whilst also central to other SE Asian economic hubs such as Singapore.
If a Real Estate company can see this new direction, we can almost guarantee large multinational companies have already started planning for this.
It is still a few years off completion, however, so expect to see movement within the larger sites very soon. Construction of these types of businesses does not happen overnight; it will take a few years for the larger developers to plan, design and construct to suit. All this needs to be aligned with the opening of the High-Speed rail network.
Some may disagree with our thoughts and we respect their opinion; however, we are already in negotiations with multi nationals who share the same vision as us. 2019 thru 2022 will see exciting growth within Thailand and changes are inevitable. We remain excited at the prospect of being heavily involved and offer our services to all those involved, from the home owner through to the larger multinational companies. We "do" see the future positively.
4. Services we offer:
Yes, Isan Real Estate Co., Ltd is a Real Estate agency / brokerage company and very proud of our existence. However, Real Estate can be a very complex beast, especially in Thailand if you are not familiar with all the laws, pitfalls, legal documents, construction companies, etc.
Thailand is unique and when you are dealing in a complex ocean of unknowns, you really do need to be guided in a professional legal manner. Weekly, we get asked the question, "Can I own land in my own name if I am a foreigner? How can I start up a business or create a paid-up capital company? What are your fees for buyers? Why should I trust your company when Thailand has a reputation for corruption?"
As you can see by just a few of the above, our involvement is not just simply selling and buying. We need to stay abreast of the laws governing Real Estate in Thailand, construction permits, foreign ownership, leases, financial institution laws and applications – in fact everything and anything that is associated with living and Real Estate in Thailand.
Understandably, Thailand Real Estate buying and selling can be best described as: "Life is a box of chocolates, you never know what you're going to get"! It is different to most other countries with very little supervision. So often, we hear of unscrupulous dealings, leaving buyers and sellers out of pocket, or in some cases on the street. Many may think this is only related to foreigners wishing to live in Thailand; however, in our experience it is decidedly more often than not that it is Thai people who get caught in these deceptive dealings.
How do we overcome this matter? First and foremost, the owners of Isan Real Estate Co., Ltd. have been in that position personally prior to the establishment of the company. Let us tell you, it hurt us and that was a determining factor in creating a professional Real Estate Company. We spent hours with certified high-end Lawyers, Barristers and Attorneys to create legal and binding contracts, agreements and documents to protect both buyers and sellers alike, all prepared and with certified translations.
Many would argue, "what is new about contracts"? Our answer is very straightforward: traditionally speaking, many Real Estate transactions were done without any legal regard whatsoever. Let us ask, "Would you trust a financial institution with your money if they did not gather your ID, place of residence, issue a Bank Passbook and keep a record of your transactions"? I suggest you would probably not. Then why entrust one of your most precious assets, property, without legal documentation that is understandable and protects you?
Contracts and agreements are slowly catching on, yet there are still many who take the risk with home and land as if it were a gambling casino. Our advice: Read all contracts and agreements thoroughly before signing or handing over sensitive information. Conduct your own research! Trust a professional with true and certified credentials. As to fees, Isan Real Estate does not charge buyers any fee whatsoever! We are there to assist and guide you through each step to ensure your rights are protected.
We also have a policy of anti-corruption within our company, we do not ask for, request or receive any financial gain when we conduct our business or refer certain professionals in various fields associated with our company. Our referrals, to others, are based on positive customer feedback, of professionalism, quality of workmanship and customer service.
5. The future:
Oh, where is that crystal ball? We do wish that we could accurately predict the future. Unfortunately, with the world changing rapidly, you would have to be a brave person to try and predict it today. In our opinion, especially within Real Estate, we do see a swing in momentum in the seller's favour within the next 6 – 8 months. Our reasoning is largely based upon the words above, especially an election, the One Belt – One Road Initiative, new infrastructure projects, and a growing international awareness that Thailand is a strong candidate in which to invest in SE Asia for larger multinationals and large Thailand registered companies.
With technology nowadays, the ability to interact socially and in a business sense lessens the vast expanse of the world. It is so much easier to communicate, research and deliver. With our ongoing investment in the latest technologies for IT and client relationship management systems, this has seen us dealing directly with individuals and companies worldwide on a daily basis. On average, we reach 52 countries through our marketing reach daily.
Where will this growth come from, where will it start? As a company that now accommodates clients throughout Thailand as a whole, not just NE Thailand, we do expect the growth will be the Southern Provinces for hospitality and tourism, yet for larger infrastructure projects to cope with the High-Speed rail network, Northeastern and Northern Thailand may see more and more investment opportunities for all types of investors, large or small. We consider that growth will be in the areas of high ROI opportunities more so than cities or provinces in general.
We take this opportunity to welcome all new clients and sincerely thank our past and current clients for placing their trust and faith in our professional abilities. We also wish one and all a very prosperous journey as you enter the Real Estate market within Thailand.
To recap our earlier words: It is and always will be our goal to provide our clients with an enjoyable experience when dealing with Real Estate within Thailand.
Isan Real Estate – "Working for You by Working with You"
Disclaimer: The author of this article is expressing an opinion based on experience, research and self-predictions for the future. It is not the intention of the author to persuade or offer legal opinion. For all matters pertaining to Real Estate within Thailand and other topics mentioned, we strongly advise that you obtain your own personal legal advice before entering into any agreements or such.
This article is written with respect to the Royal Family of Thailand and the Government of the Kingdom of Thailand.