Isan Real Estate Recognized as one of Thailand's Best Real Estate Agencies
A total of 24 awards were bestowed upon real estate agencies, developers, projects, and companies during the Dot Property Thailand Awards 2018 Gala awards ceremony at Radisson Blu Hotel, Bangkok on 16 August.
Isan Real Estate was bestowed one of the prestigious awards, "Thailand's Best Real Estate Agencies" by an executive panel of judges and client input for providing absolute professionalism and service.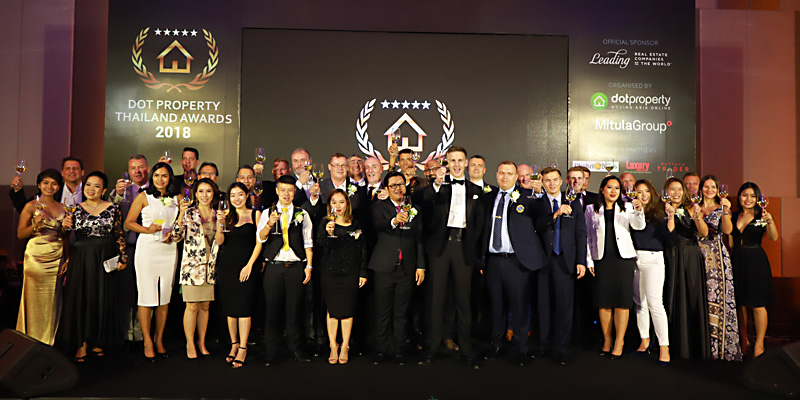 Ben Neve, Dot Property Thailand, Business CEO and founder, stated, "We are incredibly proud to announce the Dot Property Thailand Awards 2018 winners. These are truly the country's best real estate agencies, developers, projects, companies and they should all be applauded for their commitment to excellence. Our awards program continues to grow and this year's presentation ceremony is a testament to that."
Developers and agents from throughout Thailand were honoured. Isan Real Estate was awarded, based on multiple factors, including quality of service, excellence of management, and continued use of current technology in reaching local and international clientele. Since its launch in October 2016, Isan Real Estate has made great strides in business development and is now considered as one of the 'go to' Real Estate Agencies in Thailand for all types of properties, Hotels/Resorts, and Lifestyle Retreats.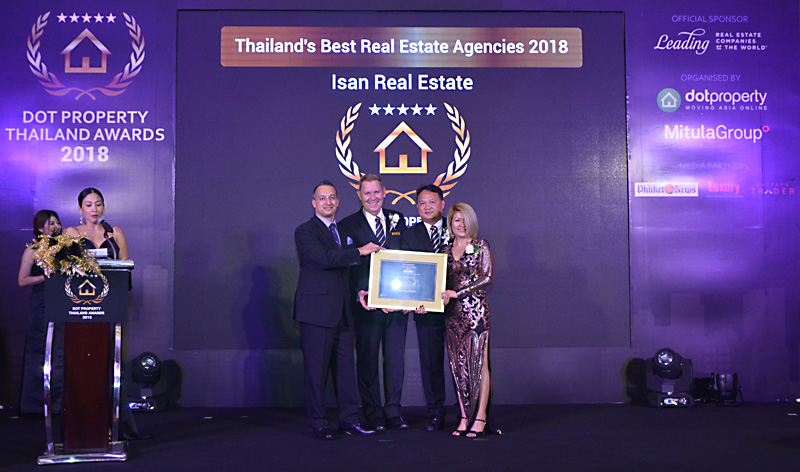 This year The Dot Property Thailand Awards launched a new segment to the awards: Thailand's Best Real Estate Agencies sponsored by Leading Real Estate Companies of the World®. This special section of the awards highlighted 11 leading real estate agencies and pays tribute to the important role they play in the property market.
In association with Dot Property Group Thailand and Leading Real Estate Companies of the World® (LeadingRE), which are regarded as leaders in National and International property marketing in building Thailand's image of a country with prestigious properties. Dot Property Group and LeadingRE boasts 565 member firms in more than 70 countries. The firm remains committed to its vision of being an international company that operates locally as it continues to expand its operations whilst providing members with new business opportunities. It associates itself with Real Estate Companies that share their same values and dedication to providing their client base with absolute dedication and commitment.
The gala awards night was organized to celebrate those firms that go above and beyond to ensure clients have the best possible client service and support. From hundreds of Real Estate associated Companies, Isan Real Estate Co., Ltd. was nominated and eventually adjudged a winner, joining other leading firms that have focused on exactly these elements since its inception.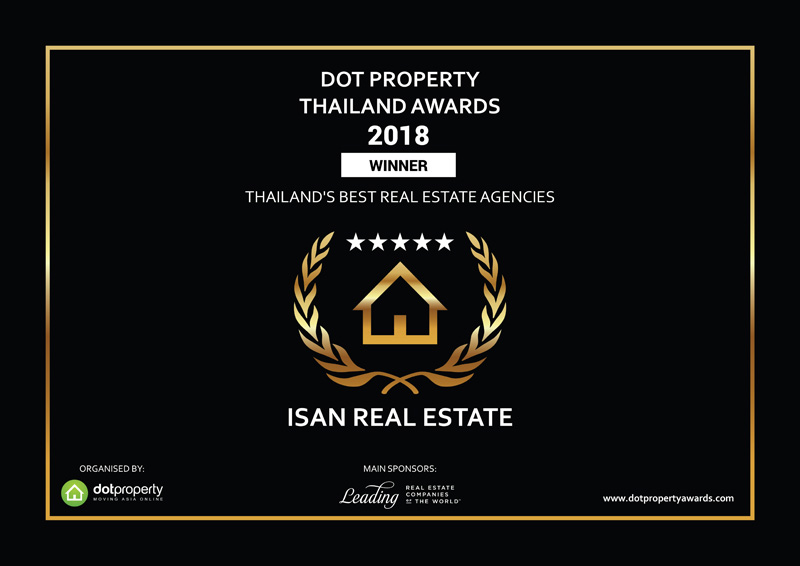 Dot Property Group Thailand commended Isan Real Estate not only as "Northeast Thailand's leading real estate agency but also for the overall role it has played in providing continued quality service to a wide and varied range of companies involved directly in the Real Estate industry throughout Thailand as a whole. Property owners, investors or those looking for a home or land in the area have come to trust Isan Real Estate, thanks to their in-depth knowledge and dedication within this unique market. Implementing an "exclusive boutique" approach has seen them establish themselves as a highly professional avenue for all types of clients and properties."
"The company is determined to continually grow its strong portfolio of genuine buyers ensuring it can satisfy the desires of all parties, large or small, to achieve maximum results. With an upstanding approach that is constantly updating technology, Isan Real Estate continues to set the bar high for properties within Thailand."
Accepting the award on behalf of Isan Real Estate were Mr. Ernie Draper, Managing Director, Mrs. Duean Draper, General Manager and Khun Chaiaek Kawrin, Assistant General Manager. Mr. Draper paid tribute to Dot Property Group Thailand Management for its continued professional support of companies within the real estate arena. Their approach to client service is equal to that of Isan Real Estate. Mr. Draper also thanked all staff, past and present for their commitment to providing a unique quality of service to all clients who have been associated with the company. "Whilst this award is very humbling and gratifying, Mr. Draper strongly believes Isan Real Estate can not rest upon such distinguished awards. "We must continue to improve in order to service all of our listings and buyers. It has been a trying few years establishing the company to achieve such accolades but I firmly believe we have much more to offer. Client satisfaction is, and always will be, our number 1 goal!" "Mr. Draper also thanked the panel of judges from Dot Property Group, the clients who had input and Industry personnel for their recognition of our dedication".